Services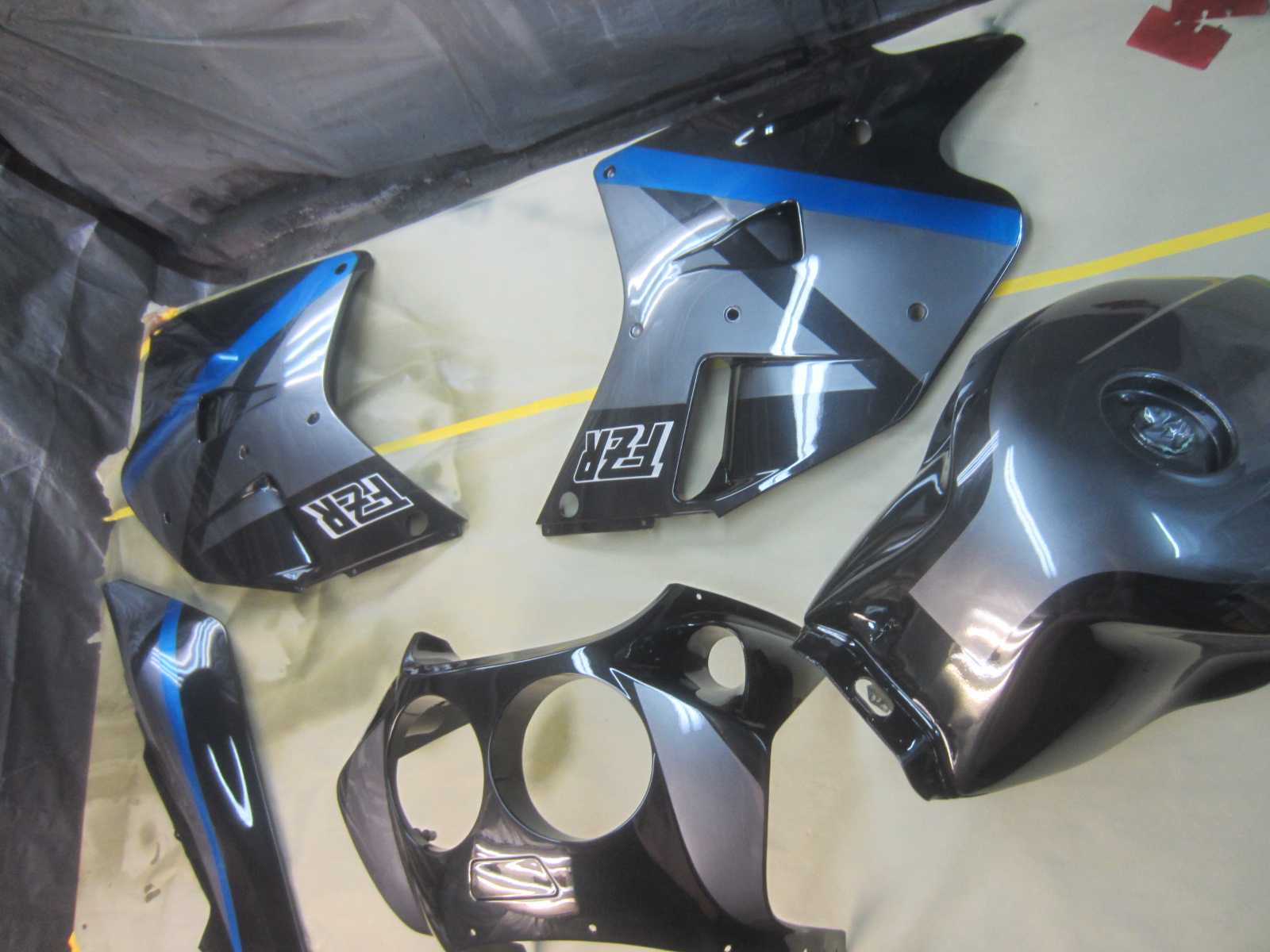 You can ship your entire motorcycle body to us from anywhere in the US. We've shipped an uncountable number of parts all over the country and have learned very well how to keep shipping costs down. We share all that we've learned on our Shipping page. For example, two or three medium sized boxes is typically much cheaper than one large box. You can experiment with costs by changing dimensions when you price the service on the shipper's website. We specialize in repair. Repair work is not just a filler between custom jobs for us, it's our forte and we take great pride in our results. After years of crash repairs and exposure to work by other professionals, it has become evident that many other shops don't practice or perhaps understand the methods required to achieve the best plastic repairs, adhesion/longevity, and overall paint quality. We've spent a little over 20 years honing and tweaking our plastic repair process. We even gone so far as to make our own custom plastic welders. We purchase the bare heating elements and then shape the housing and welding tips to create a tool based on our specific design conjured from years of experience.
We Offer Painted & Vinyl Custom Decals
Move Mouse Over Image to Toggle Between Before and After Images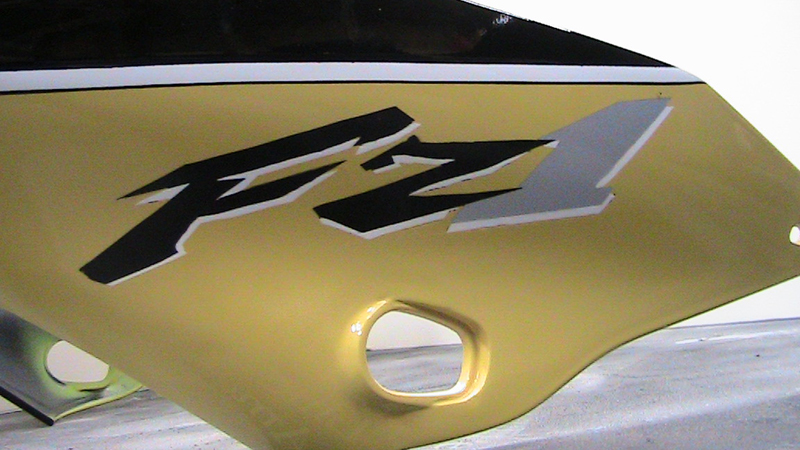 Get a Quote via Email!
While we call these 'estimates' or 'quotes' it is extremely rare that we would raise the price of a repair once a number is provided. This only happens if our understanding of the work required was incorrect or incomplete or there is a change in color or scheme. Color prices can differ significantly. Our email quote system is NOT an automated process. Just send an e-mail to: quote@msrecycle.com. Make sure you include pictures of the damaged areas. We need to be able to see the fairing in its entirety as well as specific areas of damage. Obviously some wrap around fairings are impossible to show completely in one picture. What we are after here is a general idea of how much surface area the fairing has and what specific damages there are to that surface. We do not do 'touch up' or 'spot' repairs. A single fairing will always be at least re clear coated entirely - even if we just have a small area to repair. The color or "base coat" may only require a few inches of painting but to return the part to new condition the entire finished surface must be re-cleared. The only exception to this are some of the newer matte finishes. So, make sure to show ALL damage and an overall shot of each part that needs repair. You can check out our prices and estimates page for more complete info on pricing.
Plastic and Tank Repair
(Mouse over the below image to see before and after)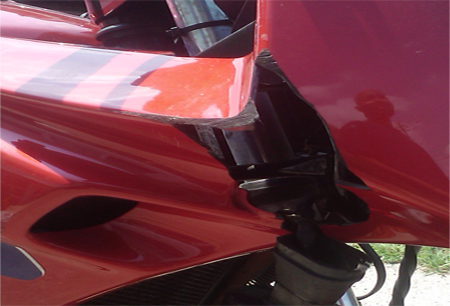 Our welds are guaranteed not to fail under normal conditions. We will repair and repaint any failures at our cost. On the finished side of the fairing there will be no visible signs that of any repair work. On the inside of the fairing, you will be able to see the weld bead itself and sometimes reinforcing material is added on fairings with known weak points. We do try to keep upper fairings as clean on the inside as possible seeing as the inside is visible but we will not compromise the repair. It is possible to hide the welds with plastic fillers so that there is no evidence of any repair. This is not standard practice and does require significant time and therefore cost depending on the total area in need of repair.
We can repair just about any kind of damage to any motorcycle body. We can seemlessly join multiple broken fairings to make one good unit. We can fabricate missing pieces (voids) even if they are large or comprised of complicated shapes. We can straighten fuel tanks by using stud guns also known as resistance weld guns. These produce no holes which later need to be welded/filled resulting in a possible leak.
We can also use these same skills to customize the style and shape of your sportbike body. We can stretch fairings to match your stretched bike - or shorten fairings for lowered bikes, we can create cooling ducts or shave existing ones. (See the F4/F4I hybrid fairing pictured below) We can exaggerate peaks or shave them down. We can add metal mesh screening in the color of your choice to protect open vents or ducts from foreign objects. We can do just about anything to a tank or a fairing - period; moreover, we can do just about anything you need done when it comes to body - period. For complete details on pricing and estimates please see the Pricing & Estimates Page.
Below an F4 fairing with F4i intake ducts transplanted and flawlessly welded in to create a unique part, the only one of its kind.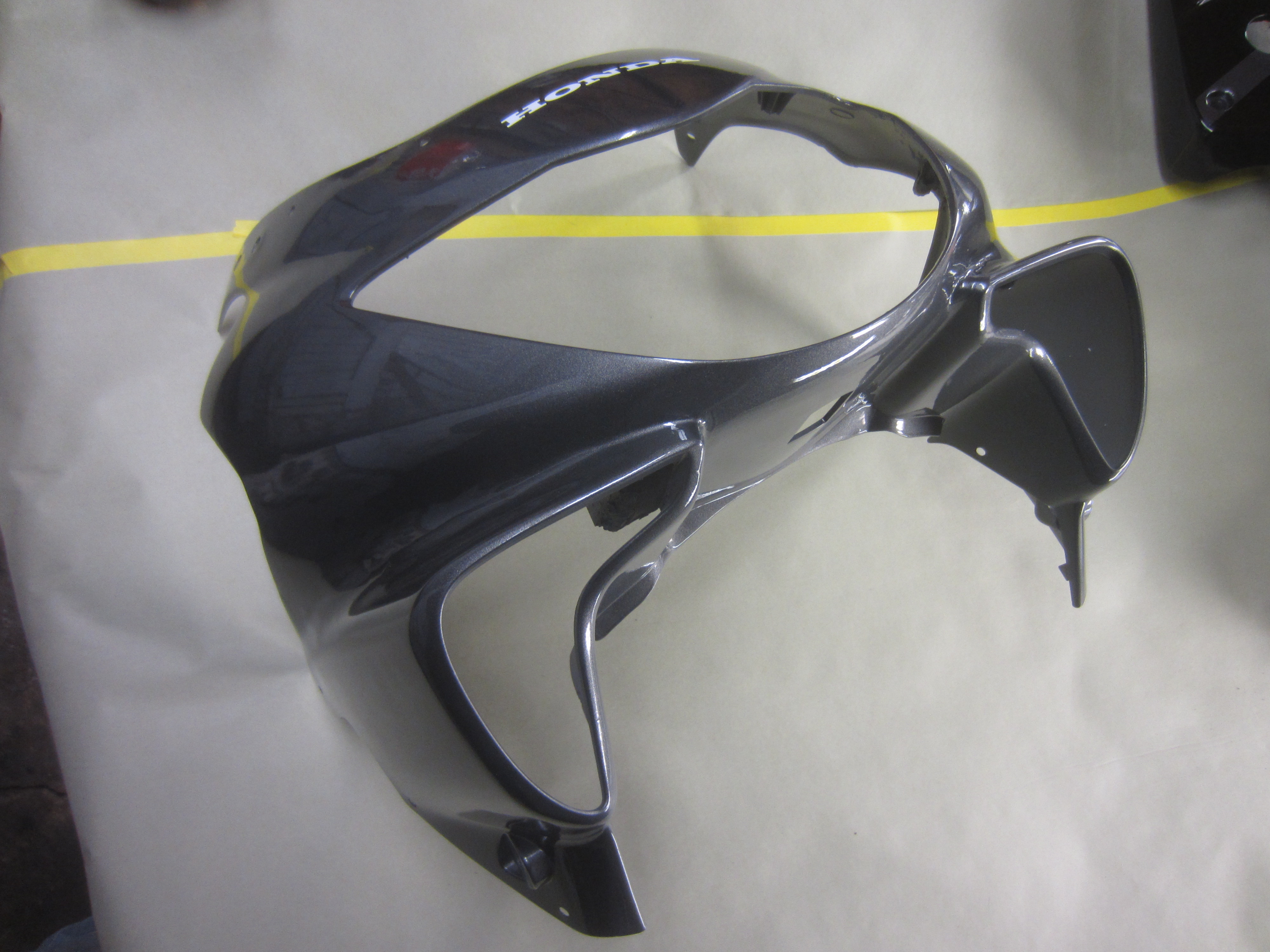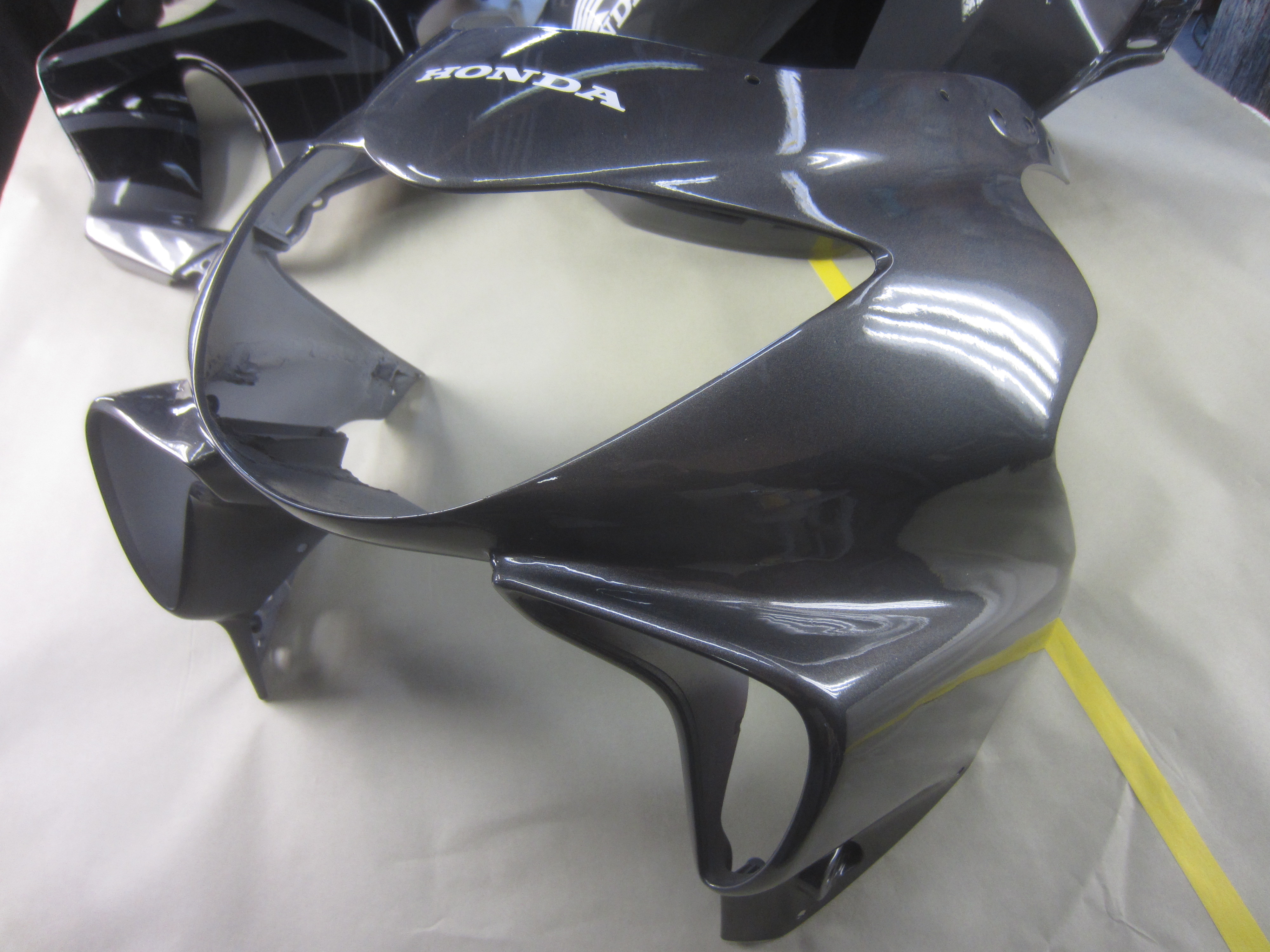 We Use BASF Glasurit 90 Line Paint Exclusively! This is typically regarded as the BEST paint period. Color match and adhesion and simply unrivaled and thus why we purchased an entire Glasurit 90 paint mixing system. To our knowledge we are the only motorcycle paint shop with the ability to mix and match our own colors and we are definitely the only cycle shop using such a high quality product. Glasurit is the OEM paint source for Honda, Yamaha, Suzuki, Triumph, BMW and Kawasaki. It is also the most popular and widely used paint on top end show cars as well as OEM paint provider to some of the most high end cars made. A few are: BMW, Mercedes / AMG, Maybach, Audi, Porsche and Bugatti. You get the picture; where it counts - we got it! Color match has to be right when it comes to motorcycles - there's no room to blend in color mismatches on today's smaller bike bodies.
OEM repairs, meaning repairs back to exact OEM colors and scheme typically run around 50% of the cost of new or less. The result is essentially the same but you get to keep half your money. We can produce decals that are quite close to OEM but never exact matches unless they are ordered from the factory or painting on using the correct OEM color. Most folks just chose to go with no decals and like the look of clean fresh paint.
Entire bikes shot in a single color typically start at $800. From there prices rise for multiple colors or heavy damage. Simple OEM language style decals can be provided at little additional cost.. At this time we can only produce single color vinyl decals. Multiple color painted decals are always an option. Custom options are essentially limitless and are priced on an individual basis for both paint and stickers. A Custom sticker can be had for as low as $20 - For example your name in the Manufacturer's font.
Our finishes range in quality from "Factory" to "Glass". Factory is our standard finish quality and mimics most manufacturer's paint finish quality. "Glass" is as close to faultless as one can get with out performing additional paint processes typically done on show quality finishes. "Show" quality is several layers of clear + wet sanding + several more layers which are then polished to the highest possible level. Glass and Show quality finishes require an additional labor charge and in the case of Show, an additional materials charge. Quotes for Glass and Show quality finishes are provided on a request only basis. Email us for pricing and questions: quote@msrecycle.com

Example "Glass Finish" Quality